"shows a delightful passion"
- Wired
A Little Bit About Kyle
If James Vander Beek and Hugh Grant met in international waters and had a love child, that would be Kyle Walters. Armed with a charming smirk and a relatable quirk, he's your friendly neighborhood actor guy.
Kyle Walters is an actor, producer, storyteller, reader of comic books and a generally nice and goofy dude. He grew up in Northern California in the heart of suburbia. He comes from a long line of All-American boys next door (in fact his grandma is a member of The Daughters of the American Revolution!)
Going on to graduating from NYU with a BFA in Drama, he has recently moved to Los Angeles. You may recognize him as the geeky love interest from Pemberley Digital's "Welcome to Sanditon" or as the quirky man child Peter Pan in "The New Adventures of Peter and Wendy" which he co-created and executive produced. Entertainment Weekly said this about him: "Walters, puppyish, is appealing as a manchild." He has also performed in numerous indie features, new media projects and plays.
Kyle's dream roles include: Yorick Brown in "Y The Last Man", someone (anyone) in the Marvel Cinematic Universe, an adult Little Nemo, Jules Verne, that guy in a "Friends" type show, an American companion to the first female Doctor Who, an animated koala bear, and more!
When Kyle isn't acting or producing, he's helping inspire imagination in our youth by being a performer and writing mentor in the amazing program Young Storytellers.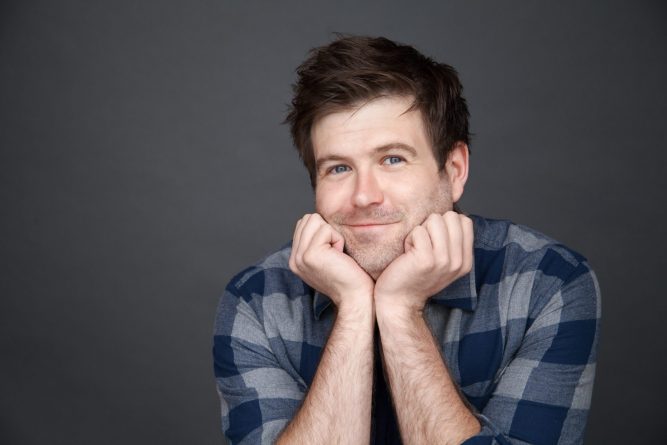 On Instagram
Bio
Kyle Walters is an actor, artist, web designer, reader of comic books and a generally nice and goofy dude. Recent TV credits include Lionsgate/Spectrum's "Manhunt: Deadly Games" and Paramount's "Coyote". You may recognize him as the geeky love interest from Pemberley Digital's "Welcome to Sanditon" or as the quirky manchild Peter Pan in "The New Adventures of Peter and Wendy" which he co-created and executive produced. Entertainment Weekly said this about him "Walters, puppyish, is appealing as a manchild." He's also performed in numerous indie features, new media projects and plays. Kyle is currently facing his toughest audience with his new baby girl. Kyle has a charming smirk and a relatable quirk. For more: www.kylewalters.com